The day you will declare your eternal love to each other will surely be one of the most important day of your lives. The wedding photo shoot is equally important, in fact it will capture all the nuances and it will allow you to always remember the emotions related to those moments.
For 20 years now Videosystem Sposi has been transforming the atmosphere of the wedding day into photographs through an artistic and innovative touch, which is able to make you relive faithfully every moment.
My goal is to discover the beauty hidden in the details and the spontaneity of unexpected moments,in order to tell every detail of the day without ever being intrusive. I will make available to you my creativity and technique, but especially my ability to make you feel comfortable in front of the lens.
The result will be unique wedding photographs, as unique is your love story.

How the wedding photo shoot takes place
To make a wedding photo shoot that reflects your personality and turns your dreams into reality, I will involve you in all the work phases.

We will begin by getting to know each other, so that I can get in touch with you and understand how you imagine your special day and the photo shoot that will represent it.
15 days before the wedding date we will meet again, to establish some fundamental aspects:
The hours of ceremony and reception and therefore those of the service, as well as the need for any on-site visits.
How to divide and invest time on the wedding day, in order to take the most significant pictures.
If you want my presence since the moment of your preparation, or if you prefer that the photo shoot begins when you are ready for the ceremony.
The itinerary to be followed during the photographic session that will take place between the rite and the reception, as well as a backup plan to follow in case the first one becomes impracticable (for example due to adverse weather conditions).
About 20 days after the wedding day, you will have at your disposal the photographs in my studio in Rieti, so that you can view them and then choose the ones you prefer. I usually select a series of images that I consider essential and they will be the heart of your wedding photo shoot. I prefer however to leave to you the choice of the rest of the shots: in this way you will be free to select those that are most in resonance with your emotions related to those significant moments.
After this phase, your photographs will all be postproduced in order to make them even more evocative. The last step will be the layout and creation of the wedding photo album. Once the draft has been approved, we will print it and the magic will happen: you will have in your hands a precious handmade Album Epoca, which will contain feelings and memories to relive and preserve forever.

My wedding photo shoot is for you if…
You want photographs that faithfully tell the day of your wedding, emphasizing every emotion.
Dream of an elegant photo shoot, where the games of light interact with faces creating unique results.
You will be married in Rieti, or in other areas of the Abruzzo, Lazio or Umbria You like the idea of being actively involved in every phase of service implementation.
You want a wedding photo album of high quality craftsmanship, able to preserve your memories forever.
Think about attaching a video of your wedding to the photo shoot.
Look for a photographer who knows how to combine creativity, technique and innovation but who is also attentive to your needs.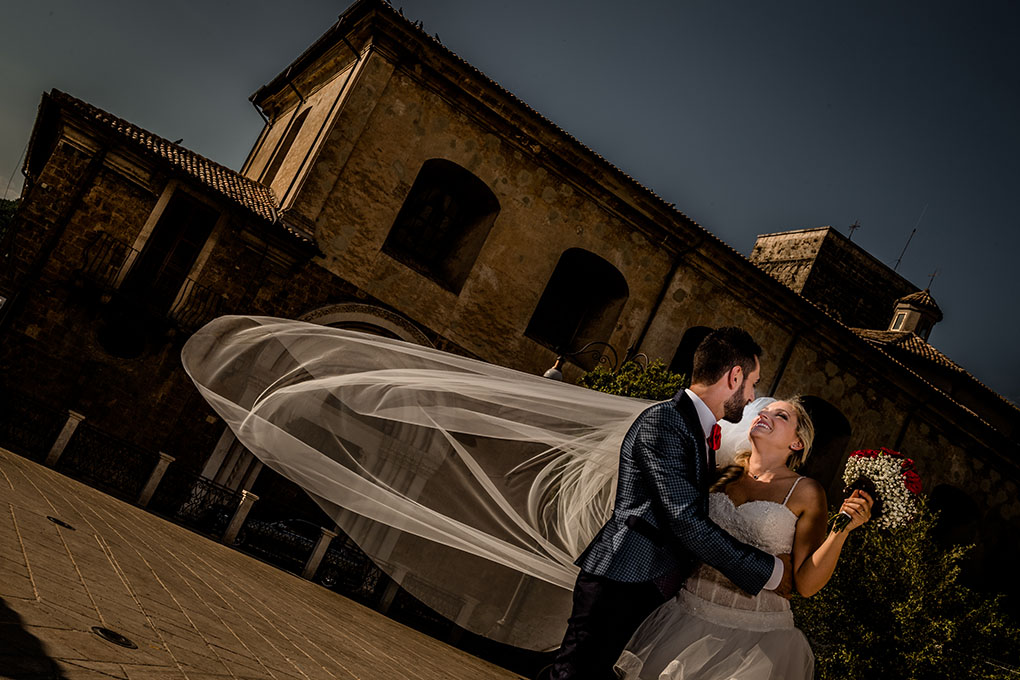 Let's get to know each other: I can't wait to turn your marriage into touching and indelible memories!
Let's leave the word to the newlyweds
"The awards and acknowledgments that Alessandro has collected during his career as a specialized photographer in weddings speak for themselves and are a guarantee of experience and professionalism. We chose him confident that we would not be disappointed by the final result and, in fact, the album he made for us is an exciting summary of all the best moments of our wedding. Alessandro offers valuable advice but leaves the spouses free to decide the type of photo shoot that they prefer to get. The photos taken were many and they have left nothing to chance: Alessandro has the ability to enhance the location and, with his expert work post production. We strongly recommend his work to all couples who want a special memory of their most beautiful day!

Valentina and Leonardo, married on 21 July 2018
" We have known them by chang but Alessandro and Franco immediately gave us a good impression…We spent an evening together feeling ourselves as if we were old friends! At the same time, however, we have seen them at work… and their reserved and professional way of working has captured us! They accompanied us on our most important day, helping us to fight even anxiety sometimes…putting us at ease…They told our dream through images that will remain indelible! We could not make a better choice! I recommend them above all because they work with the heart… And that is what makes the difference believe me!"

Claudia and Leonardo, married on 29 July 2017
"We have entrusted a real professionist photographer: Alessandro Ficano. He welcomed us with a smile in his studio making us feel at ease and giving us an immediate good impression. Attentive to all the details, punctual and always available to accommodate our requests, he was able to guide us even where we were uncertain, leading us to the best choices for us. His work is meticulous and phenomenal because he manages to tell the story of the marriage of each couple in an always unique and original way. Our album is beautiful, the video is superb! We recommend it to all couples who know how to give the right importance to photography in one of the most important days of their lives. Thank you Alessandro for stopping the time that was passing away very fast on that day, every time we watch the video we will feel like reliving that moment."

Valentina and Diego, married on 27 May 2017
How to request your wedding photo shoot
In order to have my presence with you on the day of your "I do", just contact me by filling out the form below: I will be happy to answer your questions and send you a proposal sewn on you.
I am ready to meet you to turn your marriage into touching and indelible memories!